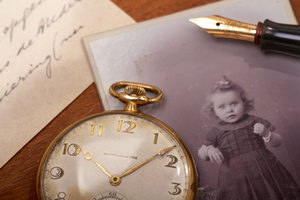 In the grand scheme of things your property is only a small part of what you have to leave behind. Your legacy has nothing to do with how much money you have. Your legacy is about the life you have lived, the lessons you have learned, the people who have shaped your life, and the values you share. It is about everything you are and everything you feel. While estate planning is focused on transferring your financial wealth, Legacy Planning is about preserving and passing on what makes you "you." At Lewis Kannegieter Law, Ltd. we have the tools and experience to handle your Legacy Planning.
With our Legacy Planning packages we will work with you to create a timeless treasure for your family to cherish long after you are gone. Legacy Talks are an audio or video recording of an interview with you discussing who you are, the things that have shaped your life, and the lessons you have learned. Our Legacy Books turn your story and your wisdom into a beautiful keepsake. Using our legal experience, compassionate client service skills, and modern technology we make the Legacy Planning process fun and painless.
At Lewis Kannegieter Law, Ltd. we understand the driving force behind most people's estate plan is a desire to take care of your family. Yet providing for your family is about more than transferring money. Legacy Planning is the most valuable gift you can leave your family. Contact Jennifer R. Lewis Kannegieter to get started on your Legacy Planning today.