To access our free Minnesota Health Care Directive form, please click here.
Your family will have peace of mind knowing they handled things the way you would have wanted.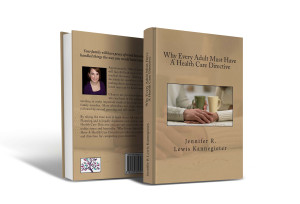 Approximately 70% of Americans will face difficult end of life medical decisions.  Making these decisions for ourselves is hard, but making these decisions for our loved ones can be heart-wrenching.
By taking the time now to learn about Advance Care Planning and to legally document your wishes with a Health Care Directive you can save your loved ones from undue stress and heartache.
Jennifer R. Lewis Kannegieter's book Why Every Adult Must Have A Health Care Directive provides you with the necessary information and direction for completing your directives.  While the book is available for purchase through Amazon, you can request a free copy by completing the form below.