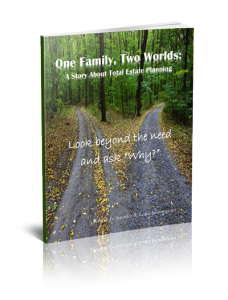 Do you understand the difference a Will could make for your family?
Download the latest e-book from Minnesota estate planning attorney Jennifer R. Lewis Kannegieter absolutely FREE: 
One Family, Two Worlds: A Story About Total Estate Planning.  Look beyond the need and ask "Why?"
To understand just how important Total Estate Planning is for your family's protection and your own peace of mind, read Alex and Christina's story.  In one world tragedy strikes before Alex and Christina have taken any steps to get their affairs in order. In the other world, Alex and Christina have completed a Total Estate Plan.  This quick read shows you just why estate planning is so important.