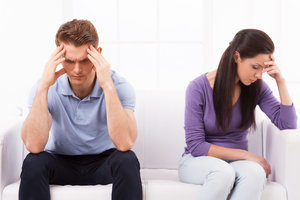 A divorce, or dissolution of marriage, is the legal proceeding needed to end a marriage. Divorce can affect all aspects of your life and be an emotionally trying time. When going through a divorce it is important to understand your legal rights and options. A divorce proceeding will determine division of marital property and debt, spousal maintenance, possession of the family home, and for couples with minor children, child custody, parenting time and support.
Property Division
As part of any divorce the couple's property and debt will be divided. Unless the parties are able to reach their own agreements, property division can be a complicated and contested process in the divorce. Minnesota law requires the division of marital property to be "fair and equitable." While most people consider "fair and equitable" to be equal, an equal division is not required.
The first step in any property division is to determine what property is "marital property" and what property is "non-marital property." Nearly all property acquired (or debt incurred) during a marriage is considered "marital property." It does not matter what name the property is in or who actually purchased it. "Non-marital property" includes property acquired prior to the marriage, property controlled by a prenuptial agreement, and inheritances or gifts from a third party to only one spouse. Some property can have both marital and non-marital elements Generally, but not always, non-marital property remains with the party who has an interest in the property while marital property is divided between the spouses in a divorce.
Spousal Maintenance
Spousal maintenance, commonly known as alimony, is the award of payments from one spouse to the other as part of a divorce proceeding. There are several different factors that must be considered in determining whether or not there will be spousal maintenance, including, but not limited to, the monthly income and reasonable expenses of each party, the length of the marriage, and the lifestyle of the parties during the marriage. Spousal maintenance can be one of the most contested issues in a divorce.
Child Custody, Parenting Time, and Support
When a divorce involves minor children, the process must also address issues related to child custody, parenting time, and support. As with any matter involving children, resolving issues related to child custody, parenting time, and support can be an emotionally trying time.
Guiding Your Through the Divorce Process
At Lewis Kannegieter Law, Ltd. we will guide you through the divorce process with compassion and common sense. We take a Total Approach to your divorce, recognizing that the legal divorce is only one part of the whole divorce. We will educate you on the law and process, explain your options, and help you reach the best resolution for you and your family. To learn more about our divorce services, please complete the form here.